FeiYaDe Fiberglass Mesh Factory is able to supply fiberglass insect screen, window screening, fiberglass mesh, glass fibre self-adhesive tape, coated yarn and screening for your windows, doors, construction and reinforcement applications.

Alkaline coated fiberglass mesh is suitable for those application that additional strength and resistance is needed. Coated fiberglass mesh is designed to work as reinforcement in cementation applications such as an underlayment for floor or countertops in new construction and remodeling. The fiberglass mesh provides dimensional stability and enhances performance. Our alkali resistant finish produces a fabric that offers excellent resistance to chemicals that will attack standard fiberglass materials.

Fiberglass screening (glass fiber screen), is made of glass fiber by the means of filament plastic-coating process. Fiberglass screen is plain woven then going through high temperature-fixing.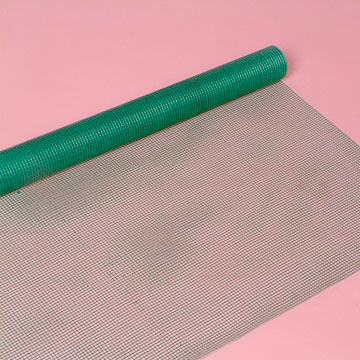 Fiberglass Mesh for Concrete Reinforcing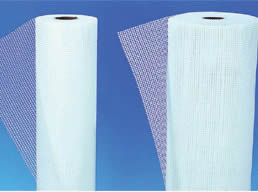 Reinforced Fiberglass Mesh Cloths are mainly used in four aspects: Interior Wall Insulation Mesh, Exterior Wall Insulation, GRC Mesh Reinforcing and EIFS Fiberglass Mesh. Get to know our fiberglass reinforcing mesh.

Fiberglass Drywall Tapes, Adhesive Tape and Teflon Coated Fiber Mesh Tape:

Feiyade fiber mesh tapes have two options for the surface coating, vinyl coated tape or teflon coated. It is also known as fiberglass drywall plastering tape or self-adhesive drywall joint tape, due to its different work conditions. Get to know details.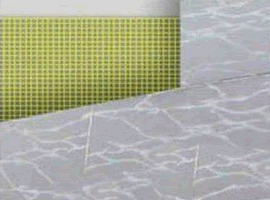 Fiberglass Mosaic Tile Reinforcing Mesh
Fiberglass mesh is not only used in concrete construction reinforced structures, it is also used as stucco mosaic tile mesh for stone, marble and decoration material reinforcing. Ideal engineering fabrics for wall and roofing rendering mesh. Get to know details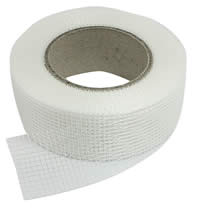 We supply fire-retardant fiber fabric and adhesive fiberglass mesh used for stucco netting. Popular sizes and weights: 48''x150'- 4.5 oz, 38''x150'- 4.5 oz and 36''x150'- 2oz. Popular colors are white and blue. Packing and detail specifications including warp, weft, weaving, weight before coating or after, alkaline resistance, resin content, tensile strength and other information listed. Get to know details.
Charcoal Fiberglass Window Screen Door Mesh Fabric
Charcoal Fiberglass Window Screen is a tough fabric for window screening against insects. Charcoal is a popular and beautiful color used for fiberglass screen especially applied to window replacement screening and pet mesh and door mesh fabrics. Learn more.
Alkali Resistant Fiberglass Mesh Forms (Rolls, Strips or Pieces, Tapes). Coated with acrylic acid copolymer or latex. Water proof fabrics for concrete reinforcement. How and Why it is Suitable for Building Materials from Aspects of Base Material Treatment, Weave, Unit Weight, Mesh, Tensile Strength and Linear Density.
Learn more
Fiberglass Replacement Screen Mesh is made with fiber glass filament yarn.
Materials: Fiberglass yarn or wire. Glass fibre mesh fabric is used in Australia and Europe as replacement screening. It is made of coated fiberglass mesh cut to window frame size and easy for installation by DIY.Learn more
Fiberglass solar screen is used to reduce UV rays amount and blocking of sunlight. It is also known as fiberglass sunshade screen. This type of mesh fabric costs more than common fiberglass screen. Can be easily fitted for the windows frames. Solar screen is also used as insect screen or window screening material in buildings.Learn more
Glass fiber woven mesh cut stripes are made by fiberglass yarns, then alkaline-resistant latex coated. It owns great alkaline-resistant and high strength. As a perfect engineering material in building construction, it is supplied in cut stripes or tapes widely used to reinforce cement, stone, wall materials, roofing, gypsum and so on. Learn more
Feiyade supplies high quality plisse fiberglass screen mesh made of polyester fiber. This is a replacement screen panel assembled on windows or doors to prevent mosquito and flies effectively. Plisse window screen and door screen are retractable, used against mosquito, flies, insects and keeping the dogs and pets.Learn more
Contact Us:
Add: No.123 Linxin Street, Dezhou, China
Email: meshwire09@yahoo.com
URL: http://www.fiberglassscreen.org
Our Featured Fiberglass Mesh Products:
- alkaline resistance fiberglass geogrid / geotextile fabrics
- fiberglass mesh
- alkaline resistance sunshade cloth fabrics
- fiberglass yarn
- fiberglass woven fabrics
- fiberglass screen for reinforcing grinding wheel
- pvc coated fiber glass insect screen
- fiber glass screen for reinforcing cement
- fiberglass woven tape
- fiberglass screen,
- fiberglass portiere
- fiberglass alkali resistant mesh cloth
- self adhesive fiberglass drywall joint tape
- fiberglass reinforce mesh
- fiberglass window screen
- fiberglass mesh enclosures
- fiberglass gridmesh grating
- pavement mesh

Fiberglass Screening for Pool & Patio Enclosures

Fiberglass screening for pool and patio is a heavier fiberglass fabric for larger areas such as screened-in porches, and enclosed pools and patios. This screening is designed for applications where extra strength is desirable. Learn more about our Fiberglass Screening for Enclosures.

Fiberglass Insect Screen:
Fiberglass Insect Screen (fiberglass window screen) is one of the most important fiberglass screening products we offer for our customers. Fiberglass insect screen is the substitute screening for metal insect screen with its excellent properties. Learn more about our Fiberglass Insect Screen.

Fiberglass Sunshade Screen/Solar Screen
We can supply fiberglass mesh used as sunshade screen or solar screen to keep your home and garden cool and maintaining beautiful appearance at the same time. Learn more about our Fiberglass Sunshade Screen.

Fiberglass GeoGrid / Geotextile Fabric
FeiYaDe Fiberglass Mesh Factory is able to supply good quality fiberglass fabrics for Geogrid or Geotextile fabrics used as reinforcement fabric for road and construction bases. Learn more about our Fiberglass Geogrid Fabrics.

Fiberglass Portiere
We supply fiberglass portiere made of fiber glass fabrics for European customers. This is a kind of decorative fiberglass fabrics with many colors available for your choice. Learn more about our Fiberglass Portiere.

Glass Fibre Mesh Fabrics of Ducting
FeiYaDe Fiberglass Mesh Factory can supply fiberglass screening, fiberglass window screen, glass fibre portiere and other fabrics made of fibre glass for different uses. Learn more about our Glass Fibre Mesh Fabrics of Ducting.

Coated Alkaline-resistant Fiberglass Mesh
We supply various fiberglass screen, glass fibre insect screening and coated alkaline-resistant fiberglass mesh for a variety of industries. Coated alkaline-resistant fiberglass mesh for geotextile fabrics in various constructions of walls and buildings. This kind of fiberglass mesh is woven with glass fibre while with a latex coating to strengthen its property of alkaline resistance. Learn more about our Coated Alkaline-resistant Fiberglass Mesh

Fiberglass Self-adhesive Joint Tape
FeiYaDe Fiberglass Mesh Factory can supply fiberglass self-adhesive joint tape and glass fibre self-adhesive drywall tapes for constructions. No pasting or stapling is needed in construction when this kind of fiberglass tape is used. Learn more about our fiberglass self-adhesive joint tape.

Vinyl Coated Fiberglass Yarn:
It's used to weave Vinyl Coated Fiberglass Yarn Insect Screen.

Fiberglass Yarn Specifications We Supply:
Standard Fiberglass Yarn Color: White, Black, Grey, Coffee etc.
Standard Diameter:A:0.292mm(0.011inch) B:0.33mm(0.013inch)
Features: Vinyl coated fiber glass yarn is corrosion resistant, easy washing, flame resistant.

Fiberglass Screen
Fiberglass screen is mainly used fiberglass insect screen or sunshade fabrics in many countries. It can be made into window screen, pet screen, fiberglass reinforced geogrid fabrics, fiberglass solar screen and other forms for a wide range of applications. With the property of good ventilation, easy washing, anti-corrosion, resistance to burning and other features, fiberglass screen serves as a modern substitute materials for aluminum insect screen or other metal window screening fabrics. Click for more information of our fiberglass screen.

Fiberglass Door Screen

We can supply smart anti-insect door screen made of fiberglass insect screening. For the door of different width. According to customer's request, we can provide specific size and color products